Dermatology Clinic & Laser Treatment
All of our staff at the Dermatology and Laser Clinics are very professional and are constantly improving their professional skills by engaging in multiple special training, international conferences, webinars, and device learning about new technology in dermatology and aesthetic medicine.
Laser treatment procedures:
Duetto and Cynosure and Thunder VIP
Hair removal for the entire body or specific areas, using the best and latest laser hair removal devices in the world.
Removal of acne scars / surgery / trauma / enlargement / using devices (MT and Q-switch laser).
Skin rejuvenation and tightening / removing of fine and deep lines on the skin of the face, neck, and hands.
Removal of skin tags from viral warts on hands and feet, papilloma/lymphoma, fibroma.
Seborrheic keratosis with local anesthesia (lidocaine).
Telangiectasia to remove angiomas/cherry angiomas/spider veins on the face and legs.
Removal of solar pigmentation / freckles / coffee spots.
Tattoo removal (Q-Plus A).
Facial hair whitening and exfoliation.
Treatment of stretch marks, removal, and treatment of acne infections.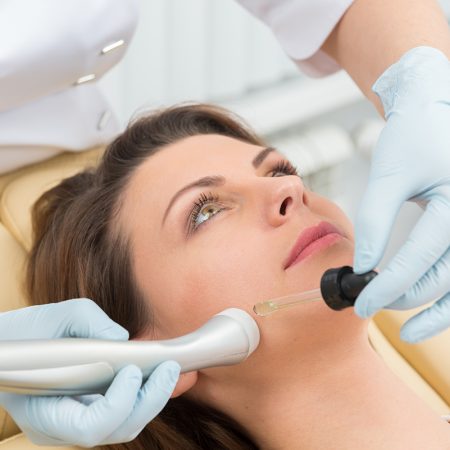 Aesthetic treatment (injections or laser therapy for face and body)
Botox to reduce wrinkles on the face, and reduce sweating under the armpits, hands, and feet.
Filler injections to intensify, rejuvenate or lift different areas on the face, neck, and hands.
Plasma injection (PR-B), for rejuvenation of the face, neck, hands, and scalp to treat different types of baldness and hair loss.
Mesotherapy + Derma Pen injections to treat acne, pigmentation, dark under-eye circles, rejuvenation, reduce large pores on the face, in addition to treating hair loss and sore signs and reducing fat like a double chin.
Chemical peeling for the treatment of different types of pigmentation on the face and body, also used for the treatment of inflammatory acne, oily skin with large pores.
Hydra Facial (Advanced Innovative Device) is an integrated solution for deep skin cleansing and deep chemical and mechanical cleansing of the skin of the face, neck, chest, and shoulders.
(HIFU) technology for tightening, lifting, reshaping the skin of the face and chin, and dissolving fat in different parts of the body.
Carbon laser to purify and cleanse the skin.
Dermatological treatments and acute or chronic diagnosis, for hair and nails of adults and children.
Allergic contact dermatitis, eczema, atopic dermatitis, seborrheic dermatitis.
Acne and acne scars.
Fungal infections of the skin and nails dorsal dystrophy.
Hair loss, alopecia areata.
Rosacea and vascular removal.
Pigmentation, melasma; Age spots.
Hyperhidrosis.
Removal of skin tags (warts, papillomas/lymphomas, seborrheic keratosis fibroids, cutaneous fibroids).